To the attention of visual and performing artists, photographers, choreographers/dancers, actors/directors, musicians, poets, fashion designers and others who like to add a bit of hope with a photo of their creations for the future.
My new Facebook friend Ninette Murk who is a Dutch eternal optimist, social activist, fashion journalist, fashion editor, producer, nature photographer, animal rights defender, charity campaigner, founder and creative director at DAA-Designers Against AIDS and the creative platform for social change BWI-Beauty Without Irony, based in Anvers, Belgium. She says "Let's make the world better & more beautiful together!" and sent the below call out. Ninette is one of the pioneers in her own way, by using art and pop culture to increase global awareness of AIDS among young people, and to create a social chance by using culture and beauty.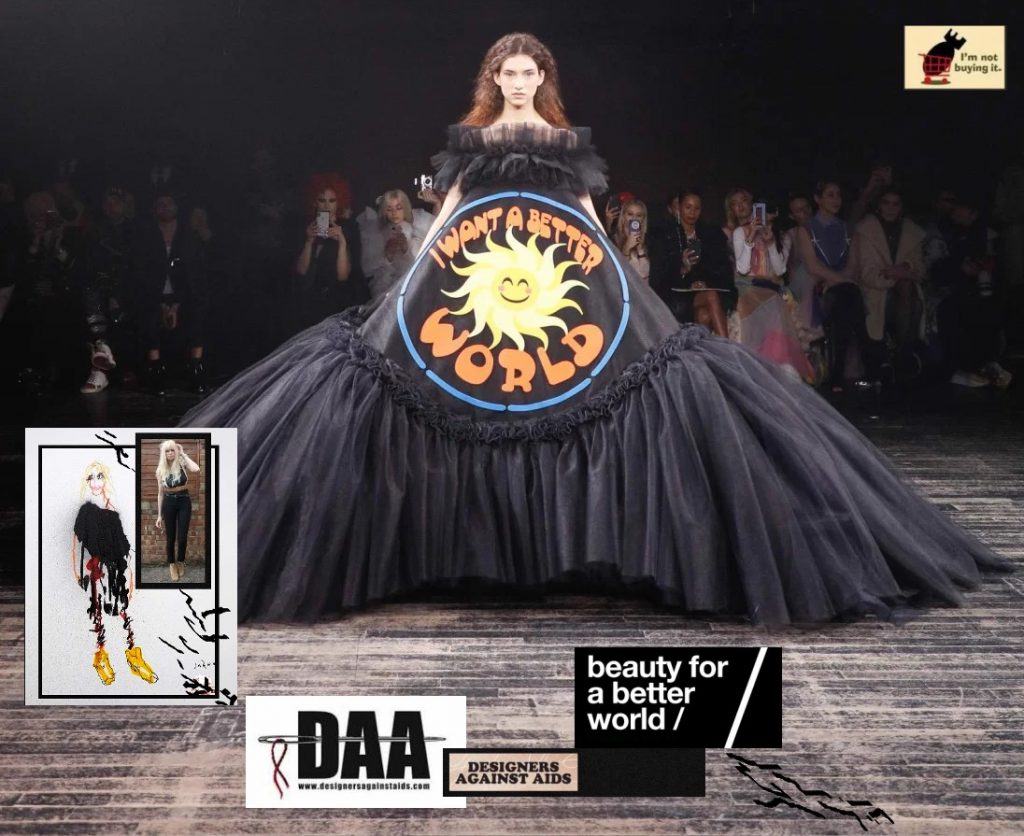 Her call: "Hi, my dream is to do BFBW-Beauty for A Better World website worldwide, 'shower' the world with real beauty so that people might get a bit of hope for the future again. Would you like to take part to beautyforabetterworld.org with a photo of something beautiful that you made? I think that every bit helps.
Artists – also the gallery artists, photographers, fashion designers, almost ever people can join us with a photo message : for many people pure beauty means nature- and almost everybody can enjoy that. Also the things that make us the most happy are free: nature, love, compassion, friendships and learning from other cultures.
On our website for BFBW you can learn about the concept and how you can join if you like, by sending a photo or something else that for you represent true beauty. Yes, everybody can take part! On our website for BFBW you can learn about the concept and how you can join if you like, by sending a photo or something else that for you represent true beauty. Thank you for the support!
BFBW was a very early project of mine that started with the Twin Towers incident and the overall world apocalypse that happened -and didn't really get the attention it deserved. I then went on to found DAA-Designers Against AIDS, a project that became very famous -and got media attention especially after our 5 years lasting global H&M collaboration. Many designers contributed, in fact, we have a vast archive of work that represents our mission. Meanwhile, I wanted to reboot my beauty projects as I feel the perception of beauty in the world is important-but most donations were made to DAA just because the initiative has gained so much publicity. I don't think it's bad, naturally, I just felt I needed to do something involving beauty-and thus restarted it.
We have a great team of high profile and talented people both in the fashion and media industry that are passionate about our mission. I believe in beauty -in fact, the process of choosing your most beautiful artwork of all to be exhibited on behalf of BFBW2020 has been cathartic even for the artists themselves.
Every company (not only in fashion!) should make sure that it's being fair on every level of their process- towards their employees, customers, suppliers, ad /media agency, shareholders – and also to the planet. The focus right now for many businesses is mainly about making as much money as possible, cutting costs wherever they can. This is not sustainable and it certainly is not human.
Fashion must slow down, it's more imperative now than it has been some years ago. The fashion schedule with so many shows a year and countless meetings and fast fashion production are destroying nature, the most important thing we have-and thus our wellbeing and future. There are solutions: reduce the schedule, produce less and better quality clothes that are ethically made, and make your supply chain as transparent as possible. Full transparency is needed. I am also a member of GWAND, a Swiss festival for Sustainable fashion and have learned a lot from these people-advocates of sustainability in a creative and not -boring, fun way! Sustainable fashion isn't anymore how it was some years ago-the clothes are actually very nice, stylish and more accessible price-wise.
Not many brands are actually investing in diversity in their staff roles or ensure equal pay rates. They must hire more black people, promote and consult them. Diversity in fashion is not a new concept, in the past, Benetton and their photographer Oliviero Toscani have been successfully embracing it with great vision-and commercial success. The Benetton clothes were just brightly coloured basics, but the message, the awareness, the brand ethics were powerful. They talked about AIDS, racism, everything that matters.
Diversity also means more representation in terms of sizes. Brands must embrace diversity and actually mean it as a long term strategy-don't just add a plus-size model to gain attention, but then not do anything groundbreaking. You don't brush off the need to show diversity and inclusivity just by stating it or posting a #blacklivesmatter on your Facebook page.
Being optimistic is more part of who I am, more of my attitude towards life than a structured philosophy. I have been through a lot the recent years in terms of personal health and have managed to get through them smiling and with optimism. You see, I may occasionally feel pain or get a low mood, but then I focus on all the great things I am blessed to have: a nice life, a house with a beautiful garden, a great husband and an invaluable circle of friends. Those are priceless -and that's how we all should face life.
We need to move forward again, also with cultural projects! Thank you and have a wonderful day.
Written by Mehmet Atak